Early Detection Saved My Life
Anna Hagan, our pharmacist from Allcare Pharmacy Carlingford, is a Breast Cancer survivor. Anna shares her Breast Cancer journey with us below. What an amazing and strong woman Anna is!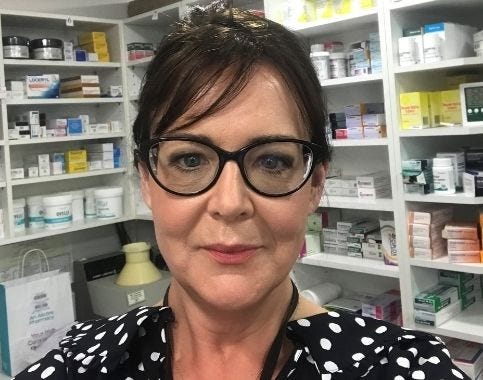 It was 2007 and life was good! Christmas was fast approaching and my two young Daughters were full of excitement for the arrival of Santa. We had moved to West Limerick from County Tyrone two years earlier and by then we were feeling well settled into the local Community.
I remember the exact moment I found the lump. I had got out of the shower and was sat down to watch TV while my husband, Stephen had popped out for a Chinese. I did a self-check on my breasts regularly, but not every single month. On this occasion, I felt quite a large lump on the upper side of my right breast. When my husband came back, I told him the news that would turn our lives upside down.
Without hesitation, I contacted my GP who made an urgent referral to Tralee General Hospital for a triple assessment. The appointment came through really quickly and I was nervous but quite confident that the lump would be a cyst or a benign fibroadenoma.
The consultant in Tralee tried to comfort me as the biopsy was being carried out - I was crying and I remember him saying that I had absolutely nothing to worry about. He was convinced that because of my age (40), this lump was benign and that it looked like a fibroadenoma in the ultrasound scan.
Two days later I was working in the pharmacy and a call came through to say I needed to book another appointment with the consultant as soon as possible. My GP confirmed what I had already guessed-cancer cells had been detected in the biopsy.
Life then transformed into a series of appointments, tests, scans and waiting for results. It was all surreal. I had never been sick or unwell before. I just went into autopilot mode and tried to keep things looking and feeling as normal as possible for the sake of the girls.
The results revealed a Grade 3 Triple Negative tumour which was 4cm in size and which had already started to infiltrate the surrounding tissue. My prognosis was not good and my treatment would require a mastectomy, axillary lymph node clearance and chemotherapy. I wanted my treatment to be as aggressive as possible to give me every possible chance of surviving.
After surgery, my Surgeon revealed that no cancer cells had been present in any of my lymph nodes which was like a miracle! Had I not detected the lump when I did, the cancer most definitely would have spread into the lymph system, which would have gravely affected my outcome. I just wish in hindsight that I had self-checked every month so that I might have detected the cancer before it had grown to such a large size. A smaller tumour would have allowed me to have a lumpectomy with radiotherapy and to avoid having the mastectomy.
That was all nearly 15 years ago, my daughters have Graduated and I am so grateful for reaching the age of 55 and having lived life to the fullest in these intervening years.
My singular message to women of all ages is to please do not shy away from performing a breast self- check on a monthly basis. It is essential that we get to know what looks and feels normal for us. Early detection saves lives and improves treatment options.
At home, we keep a breast self-check card in the shower and we all have a monthly reminder message set up on our phones in case we forget. Because I had Triple Negative Breast Cancer, I was offered BRCA gene testing, which came back negative. I want to give my daughters every chance of beating this disease.
It is so important to:
Self-check your breasts every month

Know what looks and feels normal for you

Contact your GP immediately if you notice anything unusual
Resources:
There are many brilliant resources available on Breast Cancer and Breast checks, check them out below:
Irish Cancer Society – Breast Cancer
HSE – Breast Cancer Signs, Symptoms & Diagnosis
For more information about BreastCheck screenings and to book, visit: HSE – BreastCheck screening
For more information, check out our Check your Breasts blog!